At Tulip Store you are assured of the highest quality!
We distinguish ourselves with the following top quality aspects:
- We only work with the largest available size bulbs.
- Everything is delivered 100% genuine kind.
- Each variety is provided with a unique Tulip Store tag.
- Tulip Store buys only at a selected group of the finest growers
LARGEST AVAILABLE SIZE BULBS
Tulip Store only works with the largest available size per variety. The size differences arise from the periphery of the bulb in centimeters. After the harvest the growers sell a circumference of 10 centimeters and larger and put back in the ground bulbs with a circumference of less than 10 centimeters. Tulips are sorted in sizes 10/11 - 11/12 - 12/+. Tulip Store only sells the largest available size per variety and that means for almost every variety size 12/+, meaning the bulb has a circumference of at least 12 centimeters. Other suppliers often offer smaller sizes which will have smaller flowers or sadly sometimes not even a flower. In smaller sizes, the characteristics of the tulip are also less visible. For example a peony tulip will be much less peony and a parrot tulip almost do not have any parrot shape. Below the differences of bulbsizes are shown. 
ALL KIND OF REAL 100%
At Tulip Store you get everything you buy 100% true to variety. If you buy for example the red Kingsblood then we deliver this one and not another red tulip with other characteristics which is cheaper in the market. Unfortunately sometimes this comes from other providers. Flowerbulbs of course remain a natural product. If the harvest and/or delivery will be considerably less then we expected we will deliver a similar replacement with a minimum value of 150% of the purchased product included a letter.
UNIQUE TULIP STORE TAG
In each bag is a unique Tulip Store tag included. This tag can be inserted into the soil after planting the flowerbulbs so after a few months you still can see where and what you have planted.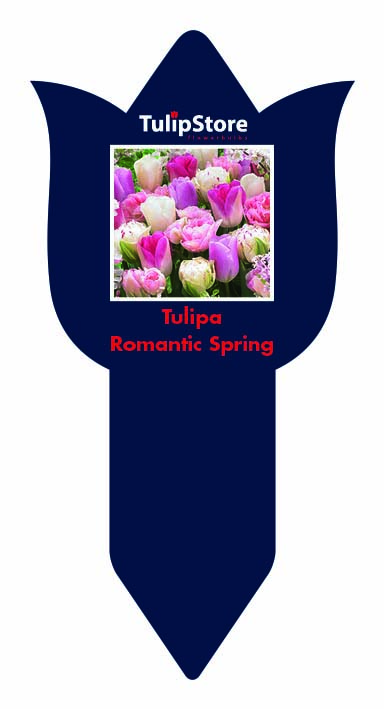 SELECTED GROUP OF THE BEST GROWERS
We only buy from a selected number of growers which year after year deliver the best quality. The director of Tulip Store, Michel de Bruine, visit already 20 years many growers each year. All our varieties are selected on the basis of disease resistance, flower size and other specific characteristics. It also matters which grower grow which variety. At the Tulip Store Show Garden in Noordwijk, Holland many varieties and mixtures are being tested every year.